416-226-2000
Simplify Tooth Replacement
with Teeth-in-1-Day Dental Implants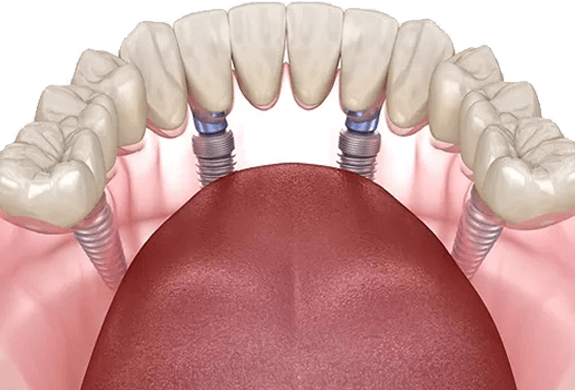 Do you have one or more missing teeth?
Are they starting to affect your oral health or self-esteem?
With Teeth-in-1-Day, you can replace your missing teeth with a long-lasting alternative: dental implants.
Your oral health and smile are key to how you feel, look, and operate in your everyday life. Dental implants with Teeth-in-1-Day are a reliable and effective way to ensure you regain that control of your confidence and routine. From start to finish, the Teeth-in-1-Day team will see you through from your first consultation to the completion of your procedure to ensure that you leave with results you love.
Missing teeth can cause lingering health problems to get worse and new issues to arise, from tooth sensitivity and grinding to jaw pain and bite alignment issues. Often, the best course of action is to replace any missing tooth with a permanent solution you can count on.
---
Before & Afters
What is Teeth-in-1-Day?
In just one day, our dental team will upgrade your smile with high-quality dental implants. Over the course of the day, you will get top-notch patient care as you undergo an advanced dental implant treatment from one of the most recognized and well-equipped dentists and dental teams in Toronto.
Is Teeth-in-1-Day Right for You?
Do you have one or missing teeth?
Are you bogged down by a busy schedule?
Have you lost confidence in your smile?
Are otherwise normal activities like chewing and drinking difficult?
Benefits of Teeth-in-1-Day

Fast & Safe Procedure: Get results fast. In just a day, you can be wearing a brand new smile as a result of a trained dental team and advanced technology that enables immediate function of your teeth.
Improve Oral Health: Minimize and reverse damage caused by missing teeth, maintain jaw health, and easily manage daily oral hygiene for healthy gums and teeth.
Permanent Results: Teeth-in-1-Day is a small-time commitment that generates results that last a lifetime.
Natural Looking: High-quality dental implants look and feel like real teeth, blending seamlessly with your smile and maximizing comfort and confidence.
Visit Toronto: When you sign up for Teeth-in-1-Day, you get a stress-free trip to Toronto included. Explore all the city has to offer, and we'll coordinate travel arrangements and accommodations.

Why Choose Us for Dental Implants:

Safe Approach: We use the most advanced technology to safely and effectively execute dental implants procedure.
Experience: With over 20 years of experience, Dr.Botbol and the team of dental professionals are well-equipped, certified, and trained to provide top-notch results and care.
Patient-Focused: Our patients' comfort and satisfaction are of the utmost importance. We offer a personalized approach and use advanced technology to ensure the best results and experience.
Centralized Services: For maximum ease and comfort, every step of your Teeth-in-1-Day procedure will be in one convenient location, so you won't have to worry about unnecessary travel or traffic.
Affordability: Your health should be accessible, so we leverage tried and tested modern technology and cost-effective financing plans to help patients manage the costs of the dental implant procedure.
About Dr. B
Featured on CTV'S Canada AM, CH Morning Live, and 680 News, Dr. B is a renowned general and cosmetic dentist known for his skill, strategic approach, excellent results, and customer focus.
With more than 20 years of experience and over 1000 dental implants placed, Dr.B is the go-to dental professional for high-quality cosmetic dentistry trusted in Toronto and countries worldwide. Dr. B and his team of highly qualified and skilled professionals offer reliable dental implants and cosmetic dental treatments for all ages and patients with varying dental needs.
Your Clinical Advisory Board
Schedule Your Complimentary Screening And Estimate
27 Rean Dr #2, North York
Please, enter a valid value